Here's how I struck Facebook gold...
Just like you, less than a year ago I was at my wits' end with Facebook.
I knew that my ideal audience was lurking on there, but everything I posted seemed to result in crickets. I had just begun my journey as a "full time blogger" (a risky decision that earned snickers from most people around me), and I was desperate to prove to myself that I COULD succeed in this competitive field.
I saw so many other travel pages booming with growth, and it felt like I was getting left behind. Honestly, I was ready to give up and focus my efforts elsewhere. After all the struggle and frustration, Facebook just didn't seem worth my time.
Then, as a last ditch effort, I decided to make one of those "square videos" that were floating around.
100 views. Cool, people seemed to be responding to it!
I woke up the next day: 5,000 views. Woah. That.... escalated quickly.
15,000 shares and 800,000 views later, I realized I might be on to something.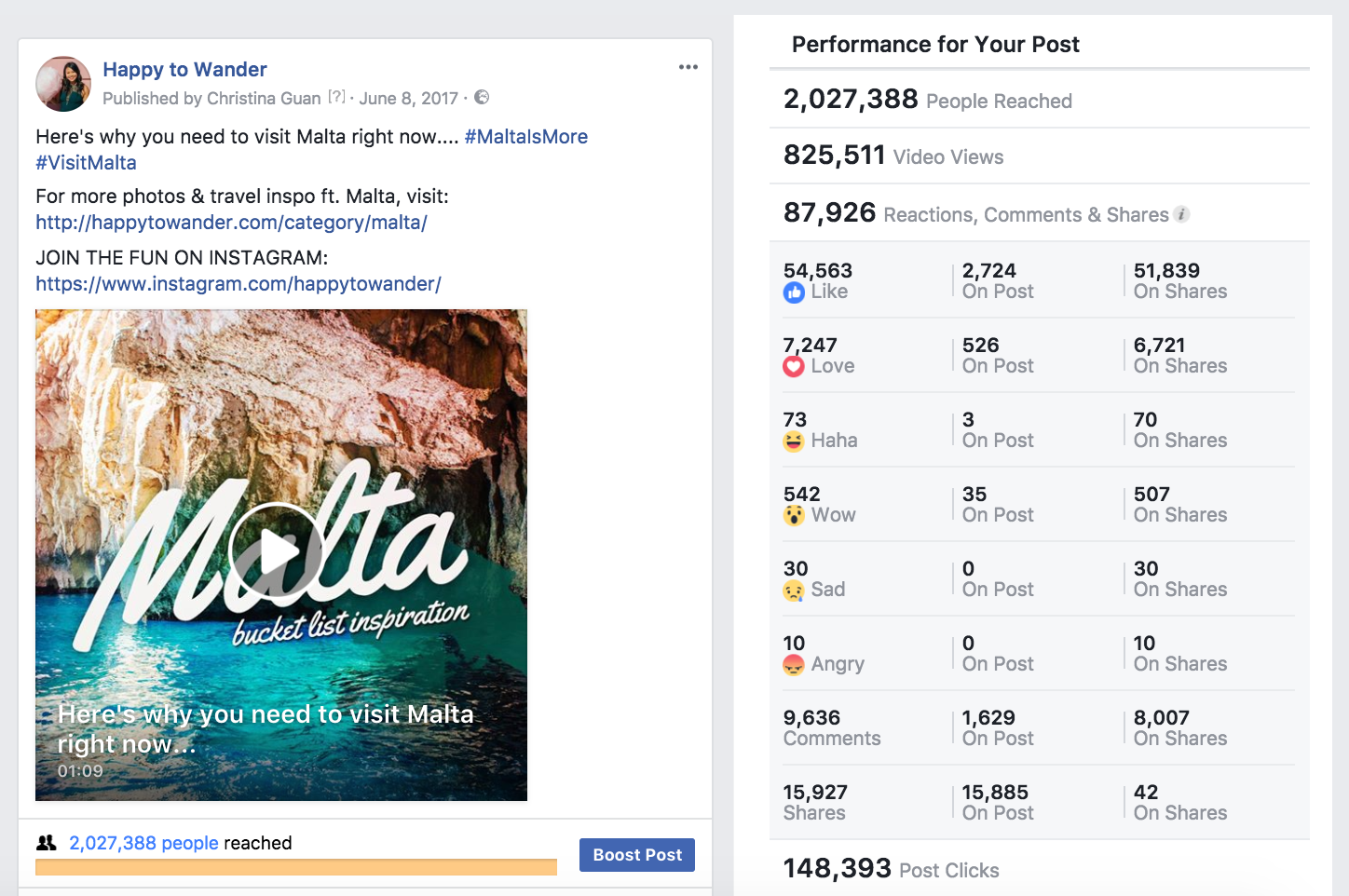 I mean, I even got an email from the airline I'd flown with saying they loved my video and how it went viral in their country!
And that's when I had my lightbulb moment: I had been using my Facebook page all wrong.
I was treating Facebook as a promotional platform for my blog, when really all along I should have treated it as its own platform, with a unique audience and an extension of my brand, rather than just a megaphone for my content.
Armed with my new realization, I became obsessed with trying to understand WHY my video was so successful. It wasn't the best out there - no way. There were plenty of incredible film makers and editors whose work eclipsed mine in quality. I also didn't have the biggest page out there, so that couldn't have been the cause of success.
I continued creating videos, testing out new theories and techniques. I was like a scientist in a lab, except with less lab coats and beakers and more wine and 4am Facebook binges.
By creating tons of new videos and strategically testing each one, I developed a system for creating and promoting videos that regularly multiplied my reach by 100x or even 1000x.
Check out screenshots of my reach below - it was virtually non-existent prior to June, and each spike corresponds to a video upload or a time I re-shared one of my videos.

My ability to create Facebook-optimized videos led to me being instantly more appealing to brands. In fact, I went on to do 8 press trips that year (including my first paid press trip).
I had finally found a way to stand out, and soon I found myself getting hired to make videos for others. Suddenly, videos became one of the most profitable parts of my blog. Whaaat?
Since that last ditch effort less than a year ago, I've learned how to turn videos into affiliate income, paid sponsorships and an insane number of pageviews. Videos helped me TRIPLE my Facebook following and most importantly, help me stand out in the sea of content creators out there.
And here's the kicker: Facebook video can do the same for you.