Pinterest is an amazingly powerful tool for travel bloggers. But as with most amazingly powerful tools, figuring out how to use it can feel totally overwhelming.
Does any of this sound familiar?
✔️You think of Pinterest as a social media platform (wait, is it not?)

✔️You've heard about how great Pinterest is, but haven't had a chance to try it
✔️You set up an account on Pinterest, played around, got frustrated, and gave up

✔️You've been Doing Things on Pinterest, but that promised truckload of Pinterest traffic is nowhere to be found

✔️The thought of figuring out how to use Pinterest on your own makes you want to curl up and cry with exhaustion and overwhelm

I've definitely been there! In fact, way back when I started my blog, I was torn between throwing my energy into figuring out Instagram, and figuring out Pinterest. I chose Pinterest, because goodness knows I only have enough brain cells to focus on learning 1 new thing per year.
But honestly? I'm SO glad I chose Pinterest!
Pinterest Actually Changed My Life, For Real
Using Pinterest, I was able to drive 20,000 sessions (and 35,000 page views) to my brand new travel blog within 6 months of creating it. That initial traffic push opened SO MANY doors for me and paved the way for me to become a full time blogger. I'm, er, not exactly Instagram famous, though ... in case anyone was wondering what happened to that half of the story.

Here's a traffic graph from the first 2 years of my blog, showing sessions from Pinterest & total sessions from July 2016 (when I started my blog) through July 2018: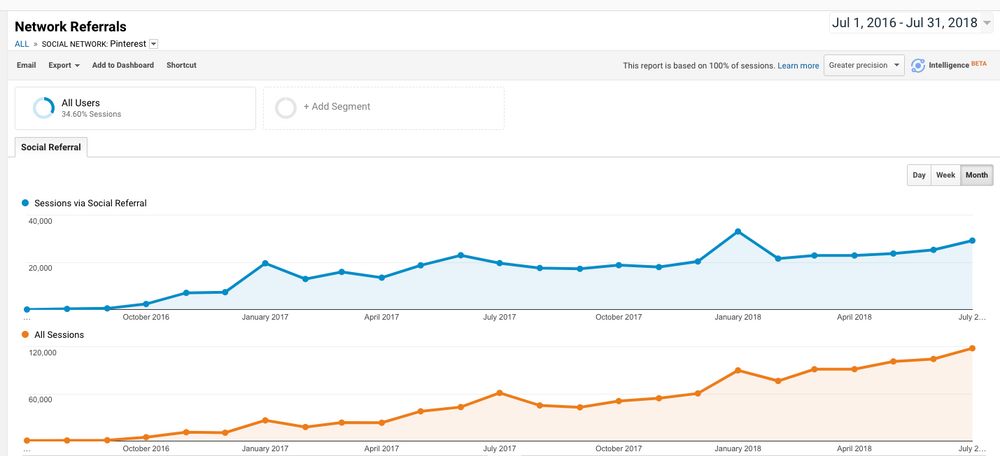 The traffic I built using Pinterest paved the way for me to start charging for Press Trips and FAM Trips before I'd even been blogging for a full year. It allowed me to monetize my blog with passive income strategies like ad revenue and affiliate income, which means I can take time off from work whenever I want and STILL earn money! Psst: more about how much I actually earn and how I monetize my traffic can be found here.
So I can honestly say, without exaggeration, that Pinterest changed my life.
No, seriously. Without it, I'd probably still be sitting behind a desk in an office somewhere DREAMING of getting paid to travel. Or maybe I'd be Instagram famous? Could go either way.