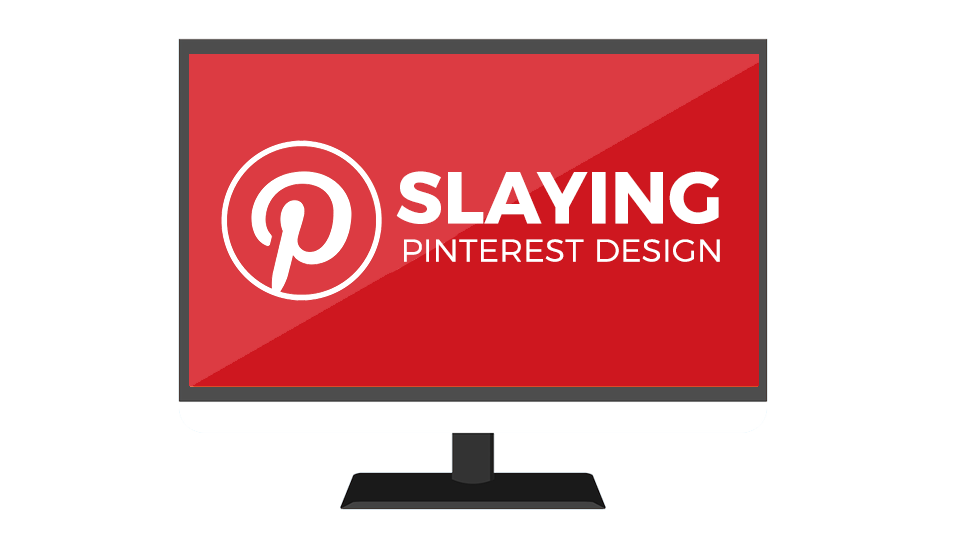 Learn How to Create Beautiful, Clickable Pins
So you can use Pinterest's visual search engine to drive traffic to your travel blog!
3 SECONDS.
That's about how long you have to grab the attention of a Pinterest user scrolling idly through their feed. No pressure.

But grabbing their attention isn't enough. After all, anyone who isn't afraid to use neon and a cringe-worthy photo can draw attention to their pin - for all the wrong reasons. Please don't do that. The real challenge? Getting a Pinterest user to actually ENGAGE with your pin, by clicking on it, saving it, or - best of all - clicking through to your site.
Nail a formula of creating attention-grabbing, CONVERTING pins and you'll be well on your way to driving boatloads of Pinterest traffic to your travel blog.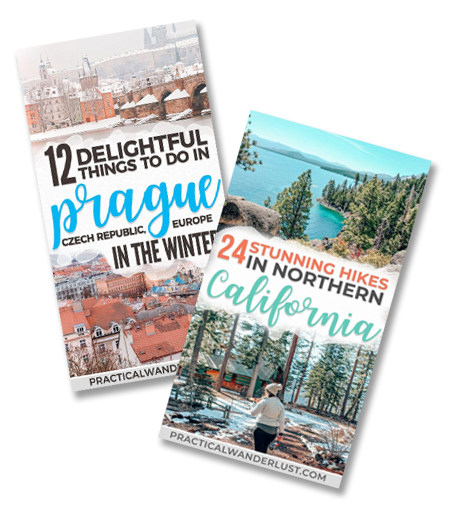 Wow, that sounds easy!
Hold your horses, there, shortcut Cheryl. Here's the thing: stunning Pins are only one half of a winning Pinterest equation. The other half is getting those pins in front of the right audience - your future blog readers.
After all, remember: Pinterest isn't a social media platform - it's a visual search engine.
But if you can put stunning design together with a winning Pinterest strategy, and you, my friend, have the recipe for success on Pinterest. Represented visually (since this is, after all, a design course) that success equation looks a bit like this: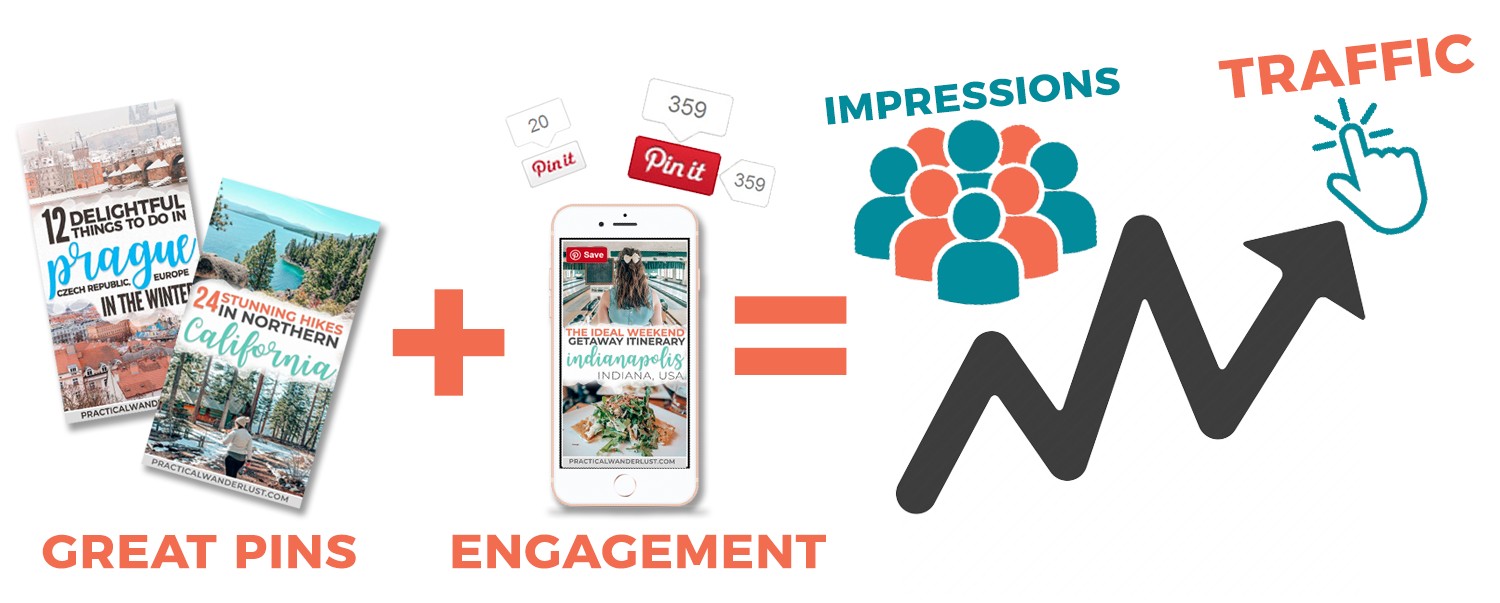 Both great pins AND engagement are equally important to a winning Pinterest strategy, and in order to maximize your success on Pinterest, you'll need a solid understanding of both. Or, to put it more bluntly....
Without good Pin design, you'll struggle to succeed on Pinterest.
But don't worry: that's what this course is here for!
What You'll Learn in Slaying Pinterest Design
Take a peek at the curriculum below to see EXACTLY what you'll be learning in this course! Here are some of the highlights...
How to choose the best colors, fonts, and photos for your Pin design
How to arrange them together in a layout that represents your brand and invites click-throughs
How to work around that pesky "but none of my images from this trip are vertical" problem
How to find photos to use in your Pins when your own photos aren't exactly Pin-worthy
How to make your own Pin templates in Canva ... AND Photoshop
All about "Visual SEO" and how to use your Pin design to capture the right audience
The 3 Types of Good Pins and how and when to create them
Does any of this sound familiar?
✔️You see a lot of truly terrible Pins on your Front Page and are secretly terrified that your pins might look that bad to everyone else (oh god, do they?!)
✔️You've been using a prebuilt Pin template and you're sick of your Pins looking like everyone else's

✔️You've been using Pinterest for awhile, but you feel like your Pins could probably look better
✔️You're new to Pinterest and you're not really sure how to create a stunning, clickable Pin

✔️You've been doing all of the Right Things on Pinterest, but that promised truckload of Pinterest traffic is nowhere to be found - and you suspect your graphics might be part of the problem

✔️You just heard the word "typography" for the first time and you're not sure whether it's the study of typos or what
✔️Your To-Do list has included "learn how to make better pins in either Canva or Photoshop" for as long as you can remember

If you found yourself nodding along and going "yassss" while reading that list, this course is for you!
But why do I need to learn Pinterest specific design?
Here's the thing: Pinterest design isn't easy - it involves both the elements of good design and knowledge of Pinterest marketing and strategy.
If good Pin design was as simple as slapping some text on a nice picture, we'd all be rolling in traffic right now. But it's not - and it took me a while to figure that out.
Here's a fun fact about me: before I was a full time travel blogger, I worked in fashion. In fact, I actually have a degree in fashion design - I spent YEARS in a real life Project Runway, studying the elements of design and learning how to use Adobe Photoshop and Illustrator to the exacting specifications of the fashion industry.
Since I'm now in the travel industry, that fashion design degree doesn't exactly seem to be doing me much good. But I'm actually applying my design skills to every single pin that I make, because the elements of design are universal - whether you're designing a graphic, a dress, or fancy packaging.
But while the elements of design are universal, Pinterest strategy isn't - it's pretty specific, actually. This course lives at the intersection of design & strategy.
Oh, and as for all that in-depth Adobe Photoshop and Illustrator practice? In this course, you'll be learning the basics of what you need to know to use Photoshop in order to create Pin templates - but you'll ALSO be learning how to make them in Canva, a totally free and user-friendly tool that's accessible and easy to learn even for the most design challenged! That way you can use either tool that suits you to make beautiful pins, and switch when/if you're ready.
But here's the good news: the effort it will take you to conquer Pinterest and learn to create clickable, traffic-driving Pins will be well worth it.
By now, I'm sure you've heard how powerful Pinterest can be for driving traffic to your travel blog. If you're not in the know, allow me to be the first to fill you in.

How Pinterest Actually Changed My Life, For Real
Using Pinterest, I was able to drive 20,000 sessions (and 35,000 page views) in a single month to my brand new travel blog - within 6 months of creating my blog. That initial traffic push opened SO MANY doors for me and paved the way for me to become a full time blogger. And it's a strategy I've replicated time and time again for my Pinterest Consultation clients.

Here's a traffic graph from the first 2 years of my blog, showing sessions from Pinterest & total sessions from July 2016 (when I started my blog) through July 2018. The blue graph up top is my Pinterest sessions, and the orange graph down below is my overall sessions.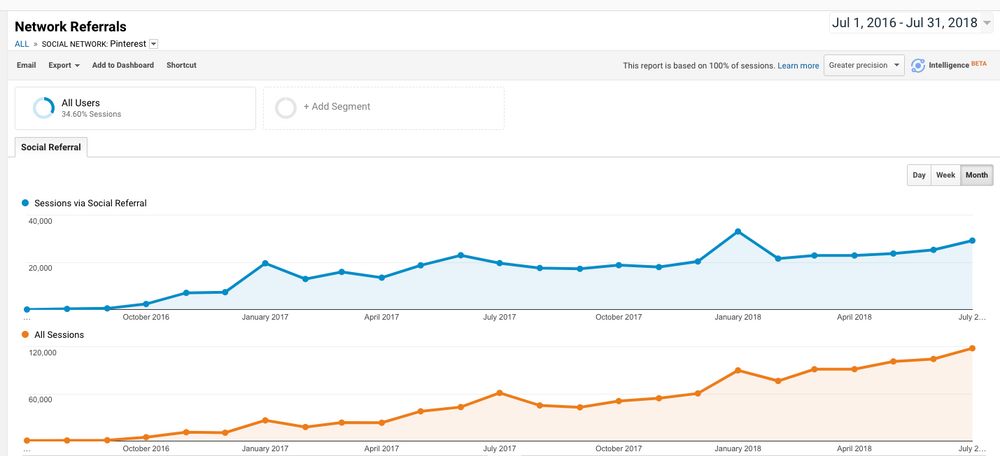 As you can see, Pinterest is STILL driving me a healthy 25-30k sessions each month - a number I've been happy with for over a year. I no longer spend much of my time focusing on Pinterest, but I don't have to: even ONE Viral Pin can send steady traffic for well over a year. I no longer have to spend much of my time on Pinterest, because my old pins are doing all the work for me.
The traffic I built using Pinterest paved the way for me to start charging for Press Trips and FAM Trips before I'd even been blogging for a full year. It allowed me to monetize my blog with passive income strategies like ad revenue and affiliate income, which means I can take time off from work whenever I want and STILL earn money! Psst: more about how much I actually earn and how I monetize my traffic can be found here.
So I can honestly say, without exaggeration, that Pinterest changed my life.
No, seriously. Without it, I'd probably still be sitting behind a desk in an office somewhere DREAMING of getting paid to travel.
That's the power of Pinterest. I know that sounds like a cult. But it isn't a cult! Just a REALLY good way to drive steady, reliable traffic to your travel blog in a relatively short time.
Course Curriculum
Introduction
Available in days
days after you enroll
Tools of the Trade
Available in days
days after you enroll
All About Fonts: Typography 101
Available in days
days after you enroll
Your Instructor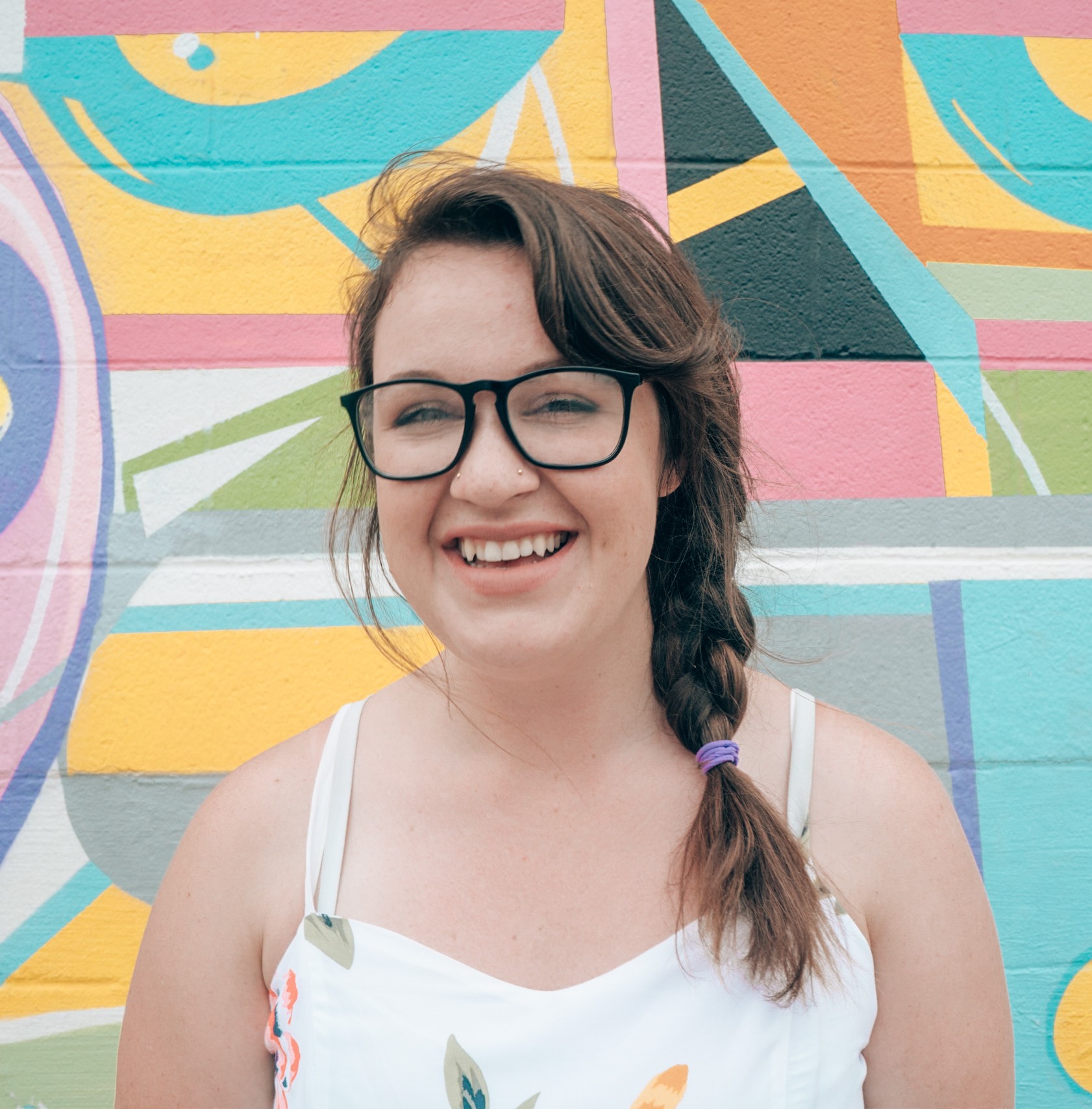 Lia Garcia is a full time travel blogger at Practical Wanderlust. Her travel advice and writing has been featured in Forbes, Travel & Leisure, The Washington Post, Matador, Vice, Buzzfeed, and more. She's also a Pinterest expert... and a design nerd. She has a degree in fashion design, and spent several years honing her expertise in the elements of design ... only to throw all that ish away and ~travel.
Lia is also 1/2 of Slaying Social, a resource and community for travel content creators to discuss & learn how to turn our platforms and influence into meaningful vehicles for social change. Our goal is to empower you with the tools, resources and community you need to create an impact with your platform, whether that's a blog, YouTube channel, podcast, Instagram, Tinder profile (jk) or whatever else. Come chat in our Free Facebook Group!
Frequently Asked Questions
When does the course start and finish?
Doors to this course will open in January 2019. Once the course is out, it's a completely self-paced online course - you decide when you start and when you finish.
How long do I have access to the course?
Is it weird to say you're in this for life? Cuz you kind of are. We're putting a digital ring on it. After enrolling, you'll have unlimited forever-access to this course for as long as you like - across any and all devices you own!
What if I am unhappy with the course?
Absolutely. Listen, BS money-grabbing techniques aren't our thing. If you finish the course, implement the lessons and still aren't happy with your purchase, we'll be happy to refund you your money within 30 days (after we have a brief crying sesh over our McFlurries).
What makes Slaying Social courses different?
From the get go, we knew we wanted to take a different approach to teaching. Our killer combination of no nonsense practicality and entertaining delivery - on top of a TON of testing & first hand expertise in the strategies we're recommending - is what we think sets us apart from the bajillions of other "gurus" out there.
What will I learn in this course?
In this course, you'll learn absolutely everything about creating stunning, clickable Pins for Pinterest, including both the actual technical design How-To and the strategy behind visually marketing your content on Pinterest!
Pinterest success is only one click away.
Sorry - that was cheesy. But we mean it! It's time to finally give your Pinterest account the strategic foundation it needs to grow like crazy and drive tons of traffic to your blog.
So, are you ready to invest in yourself?