Pinterest Actually Changed My Life, For Real
Using Pinterest, I was able to drive 20,000 sessions (and 35,000 page views) to my brand new travel blog within 6 months of creating it. That initial traffic push opened SO MANY doors for me and paved the way for me to become a full time blogger - and I've replicated the same strategy time and time again for my Pinterest Consultation clients.

Here's a traffic graph from the first 2 years of my blog, showing sessions from Pinterest & total sessions from July 2016 (when I started my blog) through July 2018. The blue graph up top is my Pinterest sessions, and the orange graph down below is my overall sessions.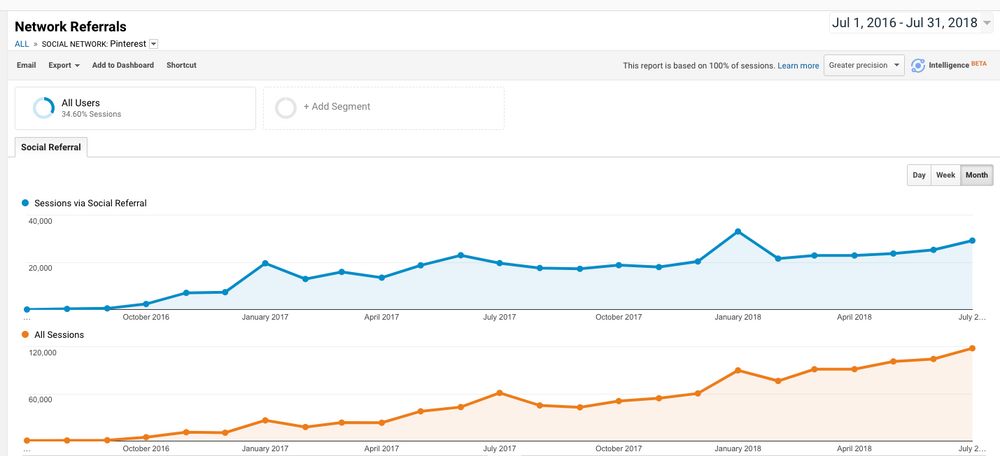 As you can see, Pinterest is STILL driving me a healthy 25-30k sessions each month - a number I've been happy with for over a year. I no longer spend much of my time focusing on Pinterest, but I don't have to: even ONE Viral Pin can send steady traffic for well over a year, and my automation strategy takes care of the rest. I no longer have to spend much of my time on Pinterest, because my old pins are doing all the work for me.

The traffic I built using Pinterest paved the way for me to start charging for Press Trips and FAM Trips before I'd even been blogging for a full year. It allowed me to monetize my blog with passive income strategies like ad revenue and affiliate income, which means I can take time off from work whenever I want and STILL earn money! Psst: more about how much I actually earn and how I monetize my traffic can be found here.
So I can honestly say, without exaggeration, that Pinterest changed my life.
No, seriously. Without it, I'd probably still be sitting behind a desk in an office somewhere DREAMING of getting paid to travel.
Me & Pinterest and That Time We Hung Out
The information in this course is up-to-the-minute accurate and includes all of the latest 2018 algorithm updates (these guys) - with a little help from Pinterest themselves. Yep, that's right: Pinterest - in the form of several of their helpful employees - has answered my questions in 1 on 1 phone calls, fact-checked that article I just linked, chatted with me about my ideas for travel-related Pinterest features, and even invited me to decorate donuts in their office! Yep, seriously.
One of the highlights of my summer was attending the first ever Pinterest Creator's Conference in San Francisco, and nagging every engineer I could corner to answer my questions. And that also means that as things change (cuz they always change), I've got contacts aplenty for fact-checking!
That said: Pinterest in no way is actually affiliated with me or this course, and they did not help me create it and they are not hanging out here in my apartment with me right now as I write this like "aw man, it sure was fun decorating donuts together that time, Lia."
Think of it like having a famous cousin. You can call your famous cousin to invite them to hang out at your birthday party and impress your friends, but you'd only be able to do that like, 1 time before they stopped answering your phone calls and avoided you on Facebook. But like, maybe you can politely message them on Facebook with questions occasionally and they'll keep inviting you to future donut-decorating events. That's basically my relationship with Pinterest.
But still. Ya know. We decorated donuts together that time.