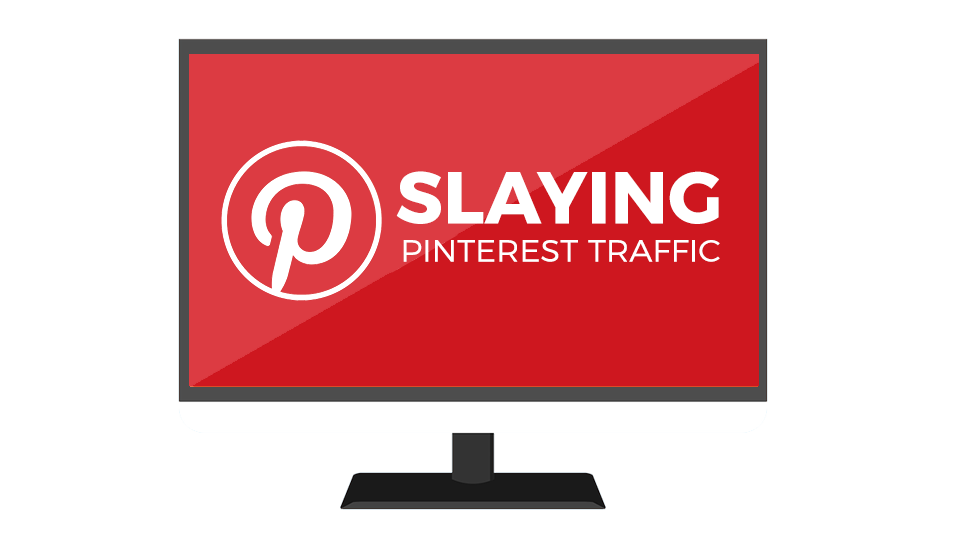 Drive More Traffic to your Travel Blog with Pinterest
Learn advanced techniques to take your Pinterest strategy to the next level
Pinterest is good for one thing, and one thing only: driving massive amounts of traffic. And getting you sucked into an endless hole of clicking on stuff. OK, it's good for 2 things, I guess.
But how can you harness the power of Pinterest to drive even more traffic to your travel blog? It's not as straight forward as pinning lots of stuff all the time (although that's ... definitely part of it).
Maybe you've been hustling for a while and still don't quite "get" it. How do some people drive SO much traffic to their blog from Pinterest? How can you get a pin to go "Viral?" Why is your Pinterest traffic still so average when everyone else is raving about oodles of Pinterest traffic?! Where are YOUR oodles?!!
OK, deep breaths - we hear your struggle loud and clear, and we're here to help. So sit back and relax - but not too much, this is a course, not a spa - and let's dive in!
This course is ideal for Pinners who have an Intermediate to Advanced level of Pinterest knowledge - we're not starting from scratch (we have another course for that). If you're comfortable with navigating in Pinterest and feel like you've got the basics down, this course will take you to the next level with in-depth strategies and actionable tips for harnessing the power of Pinterest. Omg, does "the power of Pinterest" kind of make us sound like a cult? It's not a cult, we swear.
Does any of this sound familiar?
✔️If you read another way-too-simple "Pinterest Tips" guide that starts with "Make vertical pins" and ends with "Join some group boards" you might just scream

✔️You've nailed the basics (vertical pins: check, group boards: check) and are ready to take things to the next level, whatever that is

✔️You've been Doing All The Right Things on Pinterest, but that promised truckload of Pinterest traffic is nowhere to be found

✔️You've been using Pinterest for months, weeks, or even years, but still don't get, like, THAT much traffic from it
✔️You're spending way too much time on Pinterest and you're ready to have an actual life again, but you're worried about negatively impacting your Pinterest traffic
✔️You're wondering whether it's actually worth paying for Tailwind if you'll have to dip into your brunch and mimosa budget (haha jk we mean student loans)
If you found yourself weeping along with that list, this course is for you!
But maybe you're wondering whether you should really devote MORE time and energy into Pinterest? After all, if you've already been spending your time on Pinterest, chances are you've realized what a massive mistake this whole blogging thing really is - er, just I mean, what a time-suck it can be to spend hours spinning your wheels on any social media platform.
But Pinterest is different. It really is. Let me explain why I firmly believe Pinterest is the one social media platform (that's actually a visual search engine) that is truly worth investing time, energy, and even your heard earned cash into growing.

Pinterest Actually Changed My Life, For Real
Using Pinterest, I was able to drive 20,000 sessions (and 35,000 page views) to my brand new travel blog within 6 months of creating it. That initial traffic push opened SO MANY doors for me and paved the way for me to become a full time blogger - and I've replicated the same strategy time and time again for my Pinterest Consultation clients.

Here's a traffic graph from the first 2 years of my blog, showing sessions from Pinterest & total sessions from July 2016 (when I started my blog) through July 2018. The blue graph up top is my Pinterest sessions, and the orange graph down below is my overall sessions.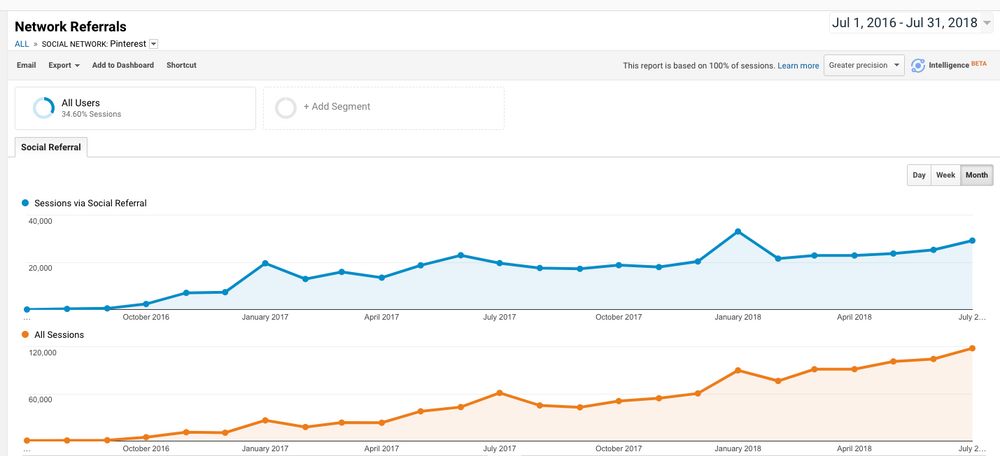 As you can see, Pinterest is STILL driving me a healthy 25-30k sessions each month - a number I've been happy with for over a year. I no longer spend much of my time focusing on Pinterest, but I don't have to: even ONE Viral Pin can send steady traffic for well over a year, and my automation strategy takes care of the rest. I no longer have to spend much of my time on Pinterest, because my old pins are doing all the work for me.

The traffic I built using Pinterest paved the way for me to start charging for Press Trips and FAM Trips before I'd even been blogging for a full year. It allowed me to monetize my blog with passive income strategies like ad revenue and affiliate income, which means I can take time off from work whenever I want and STILL earn money! Psst: more about how much I actually earn and how I monetize my traffic can be found here.
So I can honestly say, without exaggeration, that Pinterest changed my life.
No, seriously. Without it, I'd probably still be sitting behind a desk in an office somewhere DREAMING of getting paid to travel.
Me & Pinterest and That Time We Hung Out
The information in this course is up-to-the-minute accurate and includes all of the latest 2018 algorithm updates (these guys) - with a little help from Pinterest themselves. Yep, that's right: Pinterest - in the form of several of their helpful employees - has answered my questions in 1 on 1 phone calls, fact-checked that article I just linked, chatted with me about my ideas for travel-related Pinterest features, and even invited me to decorate donuts in their office! Yep, seriously.
One of the highlights of my summer was attending the first ever Pinterest Creator's Conference in San Francisco, and nagging every engineer I could corner to answer my questions. And that also means that as things change (cuz they always change), I've got contacts aplenty for fact-checking!
That said: Pinterest in no way is actually affiliated with me or this course, and they did not help me create it and they are not hanging out here in my apartment with me right now as I write this like "aw man, it sure was fun decorating donuts together that time, Lia."
Think of it like having a famous cousin. You can call your famous cousin to invite them to hang out at your birthday party and impress your friends, but you'd only be able to do that like, 1 time before they stopped answering your phone calls and avoided you on Facebook. But like, maybe you can politely message them on Facebook with questions occasionally and they'll keep inviting you to future donut-decorating events. That's basically my relationship with Pinterest.
But still. Ya know. We decorated donuts together that time.
What you'll learn in this course
In this course, you'll learn Pinterest strategy on an intermediate and advanced level. You'll learn the secrets, shortcuts, and tricks that I use myself and teach all of my Pinterest Consultation clients to drive tons of traffic, including ...
Why Pinterest engagement is crucial, and how to drive organic engagement
What types of content work best on Pinterest
How to achieve a "Viral" pin
All about Pinterest SEO
Up-to-date strategies that work with the new algorithm
What to do on Pinterest daily, weekly, and monthly to grow your traffic
Automation strategy and how to use Tailwind effectively
How to make a Pinterest spreadsheet to stay organized
How to use Analytics to evaluate your traffic and growth
... And those are just some of the highlights. Here, take a peek at the course curriculum:
Course Curriculum
Introduction
Available in days
days after you enroll
Setting the Foundations for Pinterest Success
Available in days
days after you enroll
Your Instructor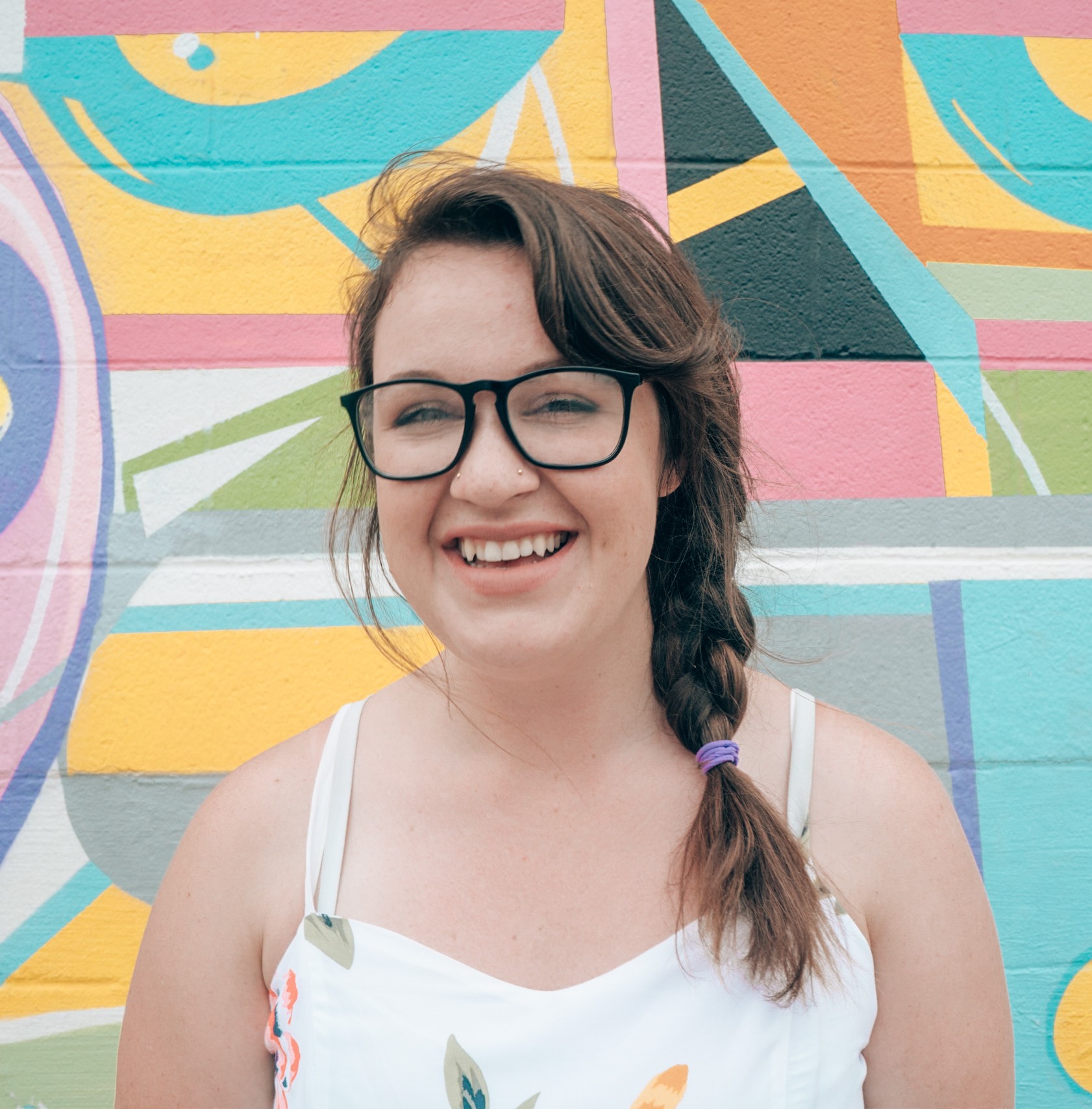 Lia Garcia is a full time travel blogger at Practical Wanderlust. Her travel advice and writing has been featured in Forbes, Travel & Leisure, The Washington Post, Matador, Vice, Buzzfeed, and more. She's also a Pinterest expert... and a design nerd. She has a degree in fashion design, and spent several years honing her expertise in the elements of design ... only to throw all that ish away and ~travel.
Lia is also 1/2 of Slaying Social, a resource and community for travel content creators to discuss & learn how to turn our platforms and influence into meaningful vehicles for social change. Our goal is to empower you with the tools, resources and community you need to create an impact with your platform, whether that's a blog, YouTube channel, podcast, Instagram, Tinder profile (jk) or whatever else. Come chat in our Free Facebook Group!
Frequently Asked Questions
What will I learn in this course?
In this course, you'll learn about Pinterest strategy on an intermediate and advanced level. You'll learn the secrets, shortcuts, and tricks that I use myself and teach all of my Pinterest Consultation clients to drive tons of traffic. You'll learn how to make clickable pins, how to optimize your content for Pinterest, how to launch and circulate your pins, and even Advanced Pinterest strategy like automation, and analytics. And yes: there will be spreadsheets.
When does the course start and finish?
This course is currently in development and the doors will open on October 1st. Once the course is open, it's a completely self-paced online course - you decide when you start and when you finish.
How long do I have access to the course?
Is it weird to say you're in this for life? Cuz you kind of are. We're putting a digital ring on it. After enrolling, you'll have unlimited forever-access to this course for as long as you like - across any and all devices you own! You'll also be invited to join our VIP Facebook Group, where you'll have a chance to discuss insider-only tips with other Slaying Social community members.
What if I am unhappy with the course?
Listen, BS money-grabbing techniques aren't our thing. If you finish the course, implement the lessons and still aren't happy with your purchase, we'll be happy to refund you your money within 30 days (after we have a brief crying sesh over our McFlurries).
What makes Slaying Social courses different?
From the get go, we knew we wanted to take a different approach to teaching. Our killer combination of no nonsense practicality and entertaining delivery - on top of a TON of testing & first hand expertise in the strategies we're recommending - is what we think sets us apart from the bajillions of other "gurus" out there.
Pinterest success is only one click away.
Sorry - that was cheesy. But we mean it! It's time to finally give your Pinterest account the strategic foundation it needs to grow like crazy and drive tons of traffic to your blog.
So, are you ready to invest in yourself?
This course is closed for enrollment.