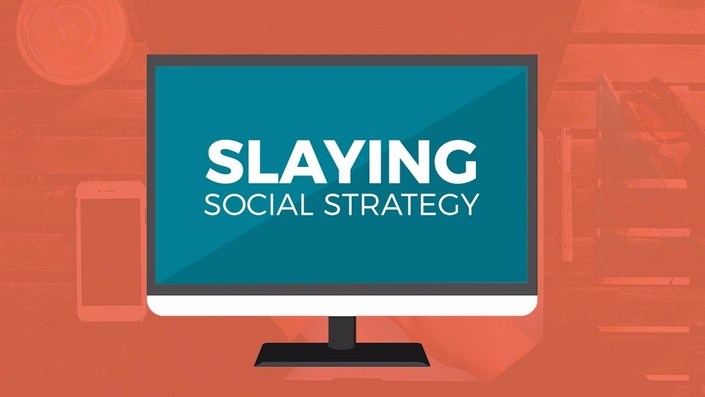 Slaying Social Strategy
Your shortcut to social media clarity
Use social media for your blog, they said... It'll be fun, they said...
Are you tired of slaving away on social media, pouring hours into platforms that give you zero results? Maybe you feel like you're faking it til you make it, with no actual idea of what's working for you
Welcome to the daily life of every blogger, small business owner, and entreprenuer: a life filled with confusion, distraction, overwhelm and crippling caffeine dependency.
Well, not anymore. Slaying Social Strategy is here to change all that. Well, except the caffiene dependency. We're all just stuck with that, unfortunately.
This ridiculously packed course was designed to kick your social media butt. No fluffy tactics, no confusing jargon - just a razor sharp focus on strategy and building one that works.
Ditch the overwhelm and come out with social media clarity - that's our promise.
How Can Slaying Social Strategy Help?
This course was created to help you focus and define your social media strategy. Does this sound like you?
You're spending a TON of time on social media and feeling totally overwhelmed.
You don't have an Instagram, Pinterest, Twitter, or Facebook account. You're wondering whether you need one, and you're not really sure where to start.
You aren't totally sure whether your social media channels are actually worth the time you're spending on them.
You're not even sure where your social media time is productive or you're just like ... clicking things?
Sometimes it hits you: it's 2am, you've been on social media for the past 6 hours, and you have no idea what you're even doing anymore. What is the point?! Who even AM I!?!?!
Deep breaths: we've totally been there. That's why we've designed Slaying Social Media: to solve ALL of those problems!
The Slaying Social Strategy Course will help you...
Determine which social media channels are worth spending your time on
Allocate your time wisely to avoid social media burn-out
Create a rock-solid social media strategy so that the time you spend on social media is focused, strategic, and intentional
Spend less time on social media strategy, freeing up your 2AM existential crises for the other problems in your life ;)
Here's what past students are saying...
"Slaying Social Strategy is unlike any other blogging course I've taken. Christina and Lia keep it real and give helpful, actionable advice. It's not easy and you're going to need to make time to reflect on the content, but if you do you'll see the results. I feel so much more confident now in my Pinterest, Facebook and Twitter strategies and have a plan for how to use each to drive traffic within my (now well defined) niche!"
- Susan, This Big Wild World
"Taking part in Slaying Social Strategy is like having a best friend sit you down and be super honest about how to improve your social media reach. I've read LOADS of social media guides and taken part in many courses, but Slaying Social Strategy is the best by far, as it has been the most practical (and up-to-date) course I've come across. If you want real, honest and practical tips, enroll in this course!!"
- Mae Gene, The Wandering Suitcase
"What can I say about Slaying Social Strategy?! It's full of no non-sense actionable blog advice that will really help you grow your blog. After implementing the Pinterest guides, I have already seen my blog traffic grow! I found I was eagerly waiting for each lesson so I could read through it and apply the strategies to my blog. Because of this course, I've pitched blog ideas to brands, which I would have never had the confidence to do. Thank you, Christina and Lia, for making me feel (as a new blogger) that I too can grow my blog!"
- Delahaye, Hues of Delahaye
Slaying Social Strategy Course Outline
We've designed Slaying Social Strategy to overcome your biggest pitfall: actually making yourself sit down and do stuff.
Based on anecdotal evidence from our personal lives, we've discovered that most people with really good intentions to Sit Down and Get Sh*t Down actually end up getting overwhelmed and not doing anything at all roughly 97% of the time (and that other 3% involved way more coffee than was healthy).
No judgement. That's just what happens when you're juggling roughly a zillion things and you're not a literal super human.
So we've designed the course to be broken up into bite-sized wisdom nuggets that we will spoon feed you over the course of a month.
Every Monday, Wednesday, and Friday, you'll get an email from us containing:
A lesson to go with one of the worksheets in your course workbook
An example to help you complete your worksheet
Words of encouragement, advise, and no-nonsense nagging to help you actually complete your worksheet
By breaking our lessons and worksheets into actionable steps that can be completed in under an hour, we'll save you time, stress, and effort, and greatly reduce your feelings of oh-god-I-have-so-much-going-on-I-literally-can't-even-deal-right-now.
And we'll be there right alongside you cheering you along every step of the way - for an entire month.Well, like, cheering and nagging. And gently reminding. And also cheering. Just call us your Social Media Moms!
Step by step, we'll coach you through creating a social media strategy for your Pinterest, Twitter, Facebook, and Instagram accounts - and you won't even realize how much work you're getting done until the end of the month when you're like OMG, I freaking NAILED it.
By the end of the course, you will have a rock-solid social media strategy.
Check out the full course curriculum below. We know it sounds like SO MUCH STUFF but trust us, you can do this. Step by step.
Course Curriculum
Course Introduction
Available in days
days after you enroll
Social Media Strategy Basics
Available in days
days after you enroll
Frequently Asked Questions
What will I learn in this course?
This course was designed to help you focus and prioritize your social media strategy. You'll learn which social media platforms you should be using, define exactly what you should be doing on each platform, and analyze and craft a strategy to reach your target audience. If you struggle with the strategic and business-y side of your blog, this course will be a game changer for you. The truth is, social media is an amazing tool but with SO many platforms to juggle and constantly changing algorithms, it's easy to feel helpless and confused. Let us help!
When does this course start?
The class will go live on December 1st, at which point the lessons will be released every two days. We'll be breaking everything down in super simple chunks so that you can work through them with ease. And, because we're masters of accountability, your course enrollment comes with a super special reminder (AKA nagging) service where we'll work through the lessons with you via email. Students in the past have told us that this was invaluable to help them stay on track!
How long do I have access to the course?
Is it weird to say you're in this for life? Cuz you kind of are. We're putting a digital ring on it. After enrolling, you'll have unlimited forever-access to this course for as long as you like - across any and all devices you own!
What if I finish the course and didn't like it? Can I have my money back?
Absolutely. Listen, BS money-grabbing techniques aren't our thing. If you finish the course, implement the lessons and still aren't happy with your purchase, we'll be happy to refund you your money within 30 days (after we have a brief crying sesh over our McFlurries).
What makes us different from the other "experts" out there?
Sure, we can throw out some numbers like "Lia gets 20k monthly traffic from Pinterest each month" or "Christina has 35k followers on Instagram, 15k followers on Facebook, and 25k followers on Twitter." But we're not just relying on our numbers to do the talking for us. We're not about promising unrealistic results, either. Here's what we do promise: a LOT of detailed, actionable information about the EXACT strategies that WORK. We promise to be completely down to earth and honest with you and never give you BS fluff and cliches. We will always, ALWAYS give you step-by-step information and never circle around the "secrets" that got us to where we are today.
What makes Slaying Social courses different?
From the get go, we knew we wanted to take a different approach to teaching. Our killer combination of no nonsense practicality and entertaining delivery - on top of a TON of testing & first hand expertise in the strategies we're recommending - is what we think sets us apart from the bajillions of other "gurus" out there.
Your Instructor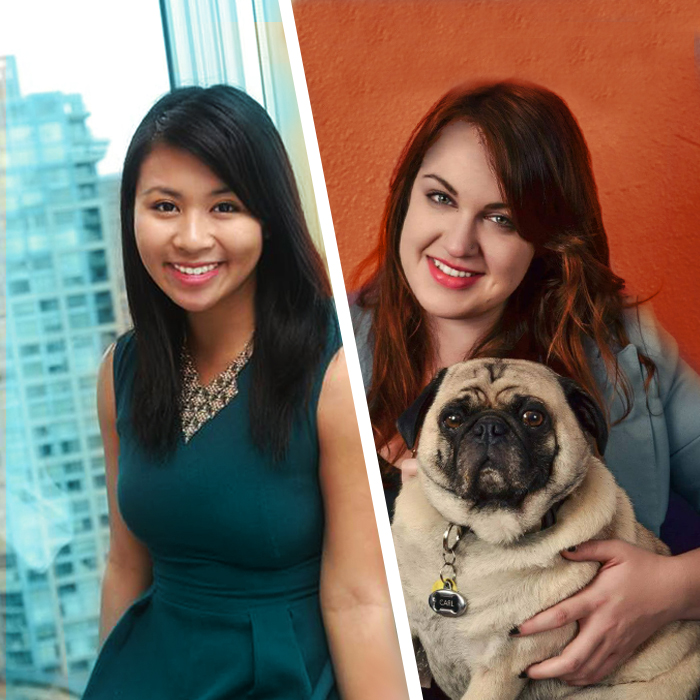 We're Lia & Christina, two full time travel bloggers on a mission to help you slay your social media marketing!

Christina Guan is the travel blogger behind Happy to Wander. As a firm believer in working smarter, not harder, she has devoted herself to testing and perfecting unconventional growth strategies for her blog, which now has an engaged social media following of over 80k and regularly 60k pageviews a month (only 80% of which, we assume, are Christina's mother). Her goal is to show you the power of confusing platforms like Instagram, Facebook and Twitter, all while making you laugh (or chuckle uncomfortably, at least).
Lia Garcia is the travel blogger behind Practical Wanderlust. Yes, she knows her married name rhymes, but she's just goin' with it (it's kind of like, Carmen Sandiego-esque, maybe?) Since launching in June 2016, Lia's blog Practical Wanderlust has grown to 80k monthly page views and 20k social media followers/subscribers. Lia invested her time in Pinterest early (at the expense of her other social media accounts, if we're being honest) and it paid off big time: Practical Wanderlust receives 20k visitors from Pinterest every single month. Since then, she's been conducting Pinterest consultations and audits to her clients while running mad-scientist tests on her own Pinterest account. She's super stoked to turn all of her obsessive knowledge about Pinterest to useful, practical guides for you to use!
Social media clarity is only one click away.
Sorry - that was cheesy. But we mean it! It's time to finally give your blog the strategic foundation it needs to grow like crazy.